How to Choose the Right Detergent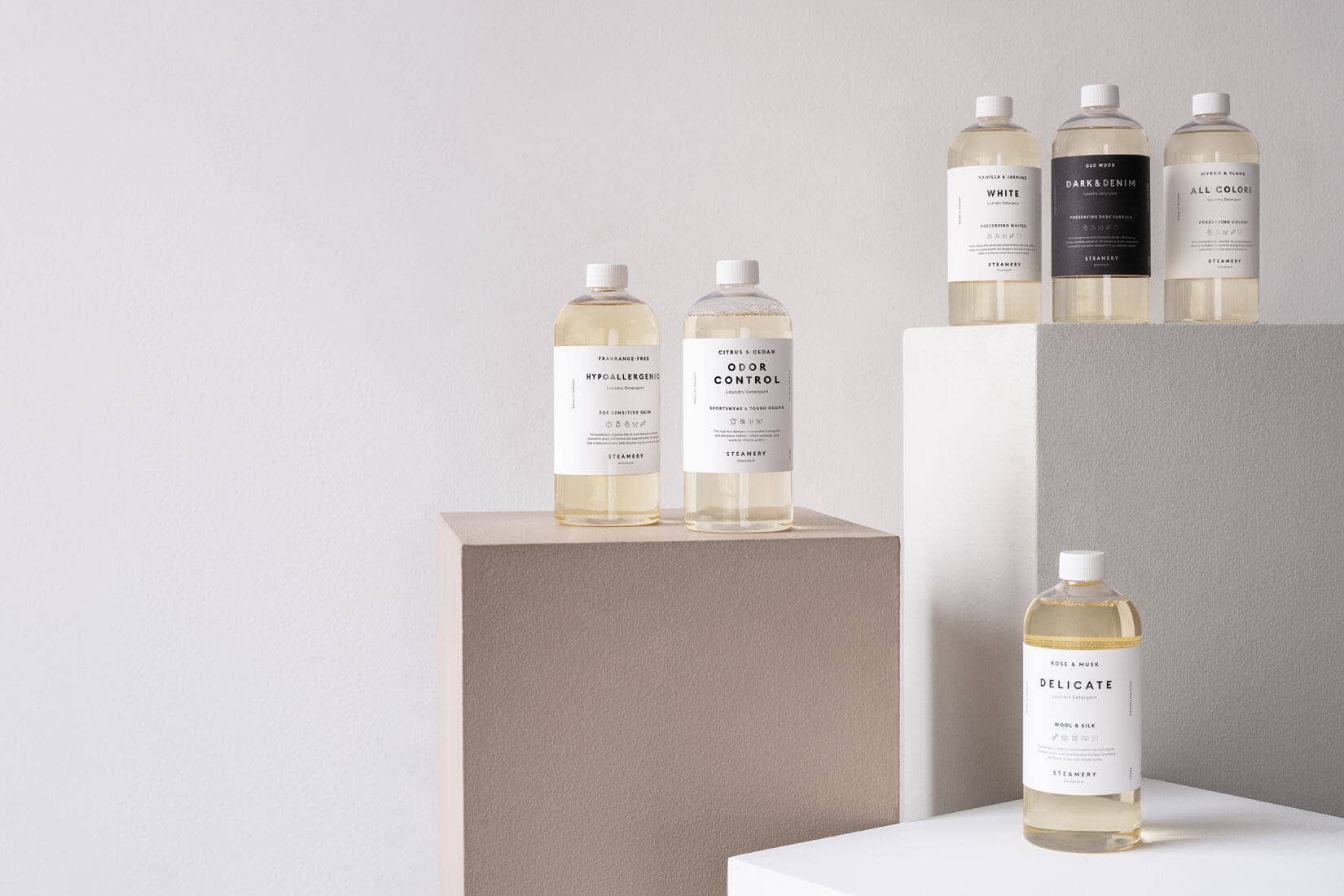 Different kinds of garments require different kinds of laundry detergents. We have developed six specialized detergents to cover all your needs. In this article, we will try to explain which bottle goes together with which garment.


Short Version:
There is no laundry detergent that goes with everything since all fabrics are made of different textile fibers. As an absolute minimum you should always have three kinds of laundry detergent at hand: one for colored garments, one for your whites and one for wool and silk. Regular, enzyme-based laundry detergents will destroy delicate fabrics. White clothes must be washed with a detergent specially made for white fabrics, otherwise they will turn grey. And colored garments will lose color if being washed with a detergent for white clothes. Our laundry detergents are free from colorants, zeolites, phosphates or preservatives and made with ingredients that are biodegradable within hours. We produce them in a 100% climate compensating factory in Vadstena, Sweden.


Why You Need Different Laundry Detergents
Never trust people that use one detergent for all their clothes. There is no such thing as a universal laundry detergent. Fabrics are manufactured with different textile fibers and have been prepared differently in the manufacturing process. Fabrics made of animal protein, like wool and silk, will degrade quickly by a regular, enzyme-based detergent. Colored clothes should never be washed with a detergent for white, since it will make them lose their colors. Functional wear and workout clothes will last longer if you wash them with a detergent that targets bad smells.

Sound tricky? It doesn't have to be – you will get far with three:


One for white- clothes and sheets

One for colored garments

One for garments made of wool and silk
Are all our Laundry Detergents Environmentally Friendly?
Yes, they are. This is how we've adapted our laundry detergents:
All of them are free of bleach, zeolites, phosphates and preservatives

We produce in a climate compensating factory in Vadstena, Sweden

All ingredients are readily biodegradable within hours

The palm oil is certified and does not come from the rainforests

The plastic bottle is 100% recyclable as plastic

They are all efficient from 30ºC
Dark & Denim Laundry Detergent: For Black and Navy-Blue
A regular detergent will, over time, make your black and navy-blue clothes look dull. Many detergents contain a rather aggressive combination of enzymes that can and will dissolve the color pigments. Our Dark & Denim Laundry Detergent is an "anti-washed-out treatment" for dark colored clothes. The mix of enzymes separates dirt and soil from color pigments and removes the dirt, but not the color. It's highly concentrated and scented with Oud & Wood. Clean and fresh garments already at 30ºC.


Use Dark & Denim Laundry Detergent for:
Black and dark-blue jeans

Black, navy-blue or dark-brown garments

Not to be used on wool and silk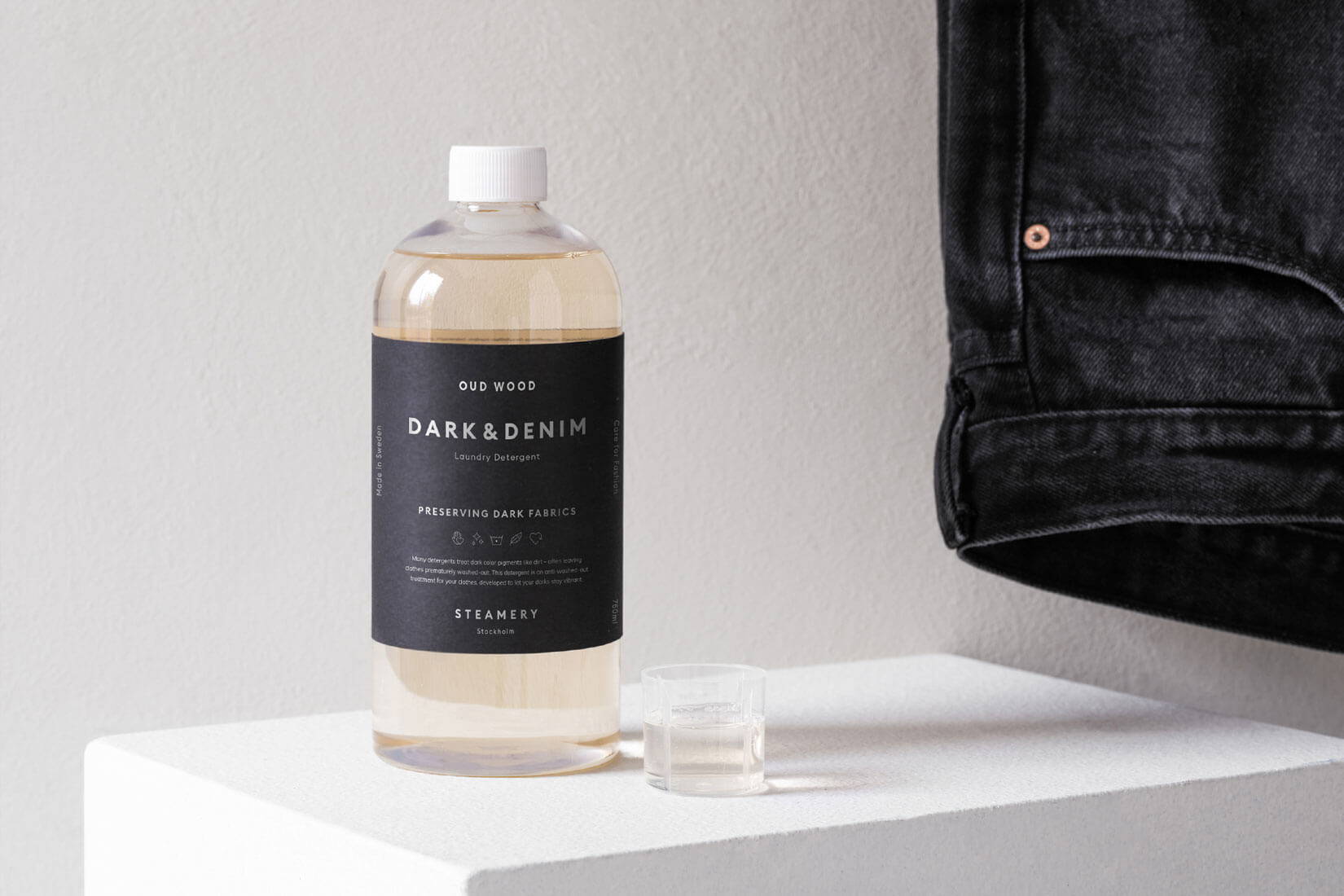 White Laundry Detergent: For White Garments and Bed Linen
White clothes frequently washed with a detergent made for colored clothes will eventually turn grey. Sometimes you might be advised to wash your whites using a detergent for colored clothes, because they are dyed white, but that's a myth. The only way of making white clothes is to bleach the fabric in the manufacturing process. Our White Laundry Detergent is bleach free. Instead, it contains a combination of enzymes that prohibit white fabrics from turning grey. The detergent also creates a protective coating around the fibers, making it harder for dirt to stick. Clean and fresh garments already at 30ºC.




Use White Laundry Detergent for:
White sheets, bed linen, towels and tablecloths

White jeans, blouses and t-shirts

Not meant for dark fabrics, wool or silk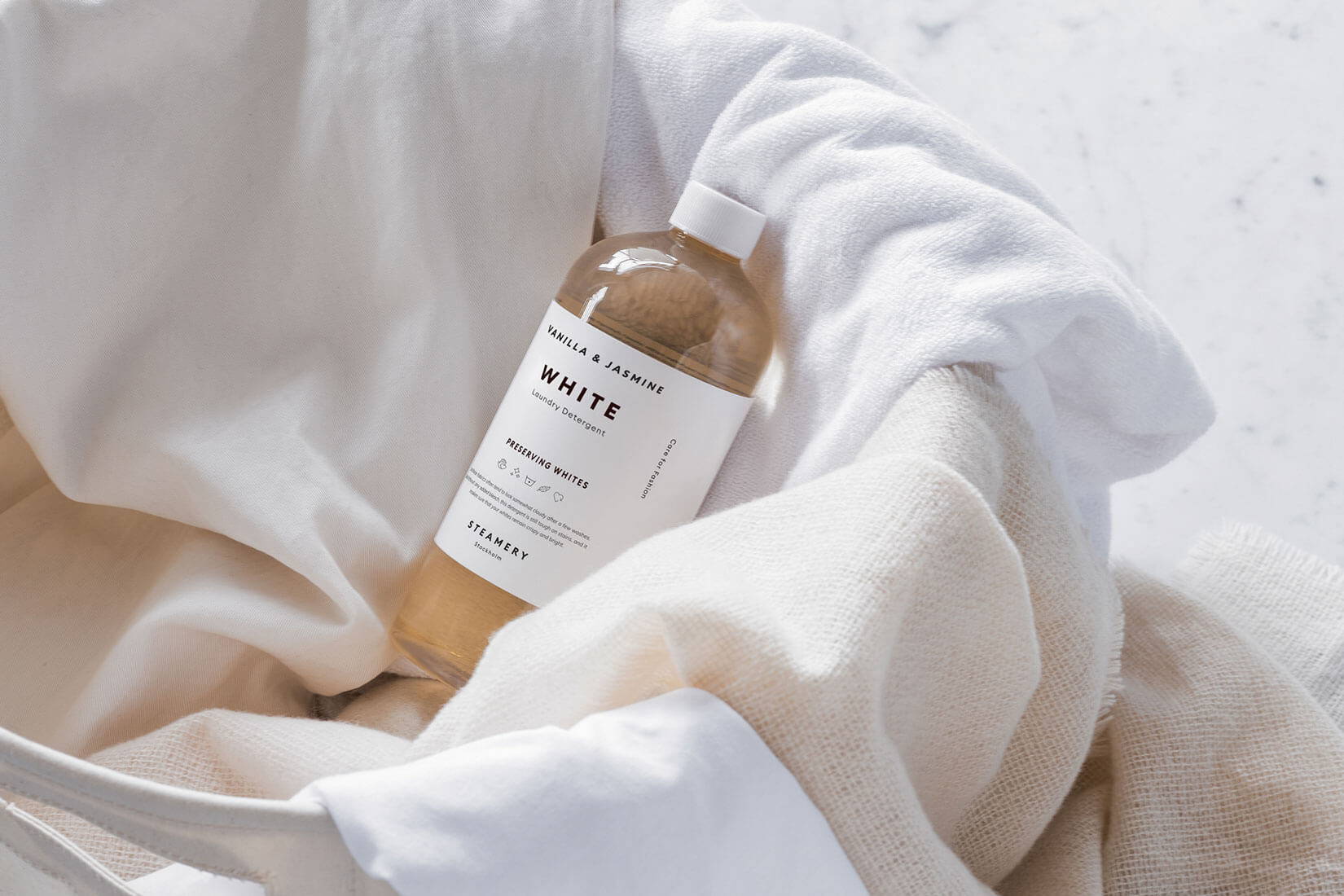 Odor Control Laundry Detergent: For Training Clothes and Functional Wear
Gym clothes and functional wear are most often made of synthetic fabrics who don't breathe. Over time they will start to smell sweaty, even if you wash them frequently. Our Odor Control Detergent removes sweaty smells, even the deep-rooted smells. It's efficient for cleaning all kinds of synthetic garments, like polyester or acrylic, who easily attract funky smells. If you can use it on cotton? Definitely. Quite the remedy for sour smelling gym towels or sheets. Clean and fresh garments already at 30ºC.
Use Odor Control Laundry Detergent for:
Workout clothes and functional wear

Synthetics (that easily attract bad smells)

Sheets, towels or sour smelling bed linen
All Colors Laundry Detergent: For all Colored Textiles
All Colors contain a combination of enzymes that are tough on stains but gentle on color pigments. It preserves a full range of colors, from light to dark colored clothes. Efficient from 30ºC. All Colors is delightfully scented with Myrrh & Ylang-ylang and will transform your boring laundry routine to a luxurious every day-ritual.
Use All Colors Laundry Detergent For:
All colored items; from light to dark

All kinds of fabrics except wool and silk

Not meant for white fabrics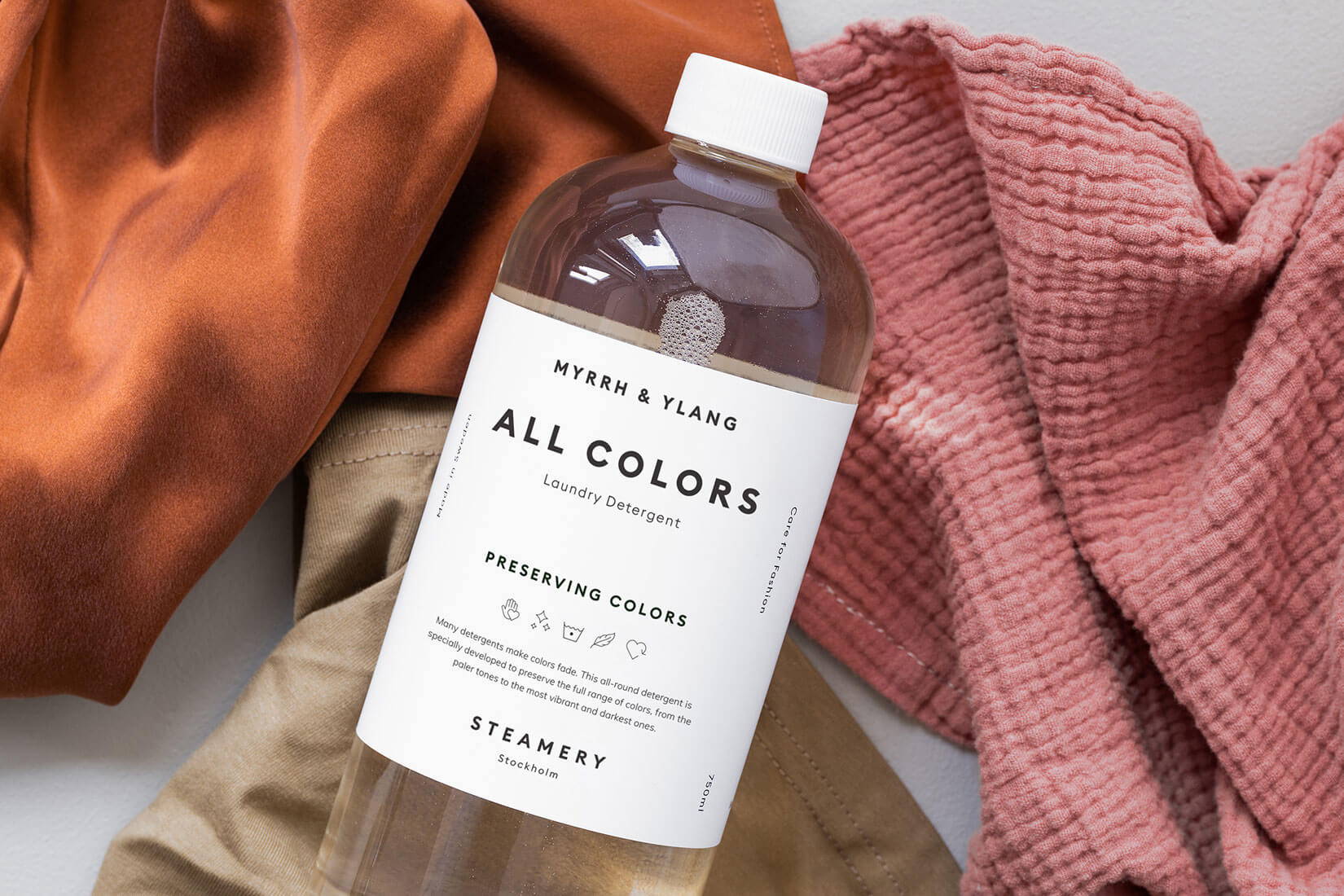 Delicate Laundry Detergent: For Wool and Silk
Your everyday laundry detergent is enzyme based and the enzymes will dissolve and remove protein-based stains, like food spills, sweat and make up-residue. Wool and silk fabrics are made of animal protein; hence a regular detergent will degrade those fabrics quickly. Wool who has been mistreated will be full of small holes. Silk items become brittle.
Our Delicate Wash Detergent contains a mix of surfactants who gently clean and care for your garments made of wool and silk. Added lanolin moisturizes the fibers, like a conditioner. The Detergent is scented with Rose & Musk and makes this a delightful treatment for your most delicate garments. Ideal for hand wash.
Use Delicate Laundry Detergent for:
All clothes made of wool or wool blends (cashmere, alpaca, merino and lambswool)

Garments made of silk or silk mixes

Other delicate clothes that deserve some extra love
Hypoallergenic Laundry Detergent: For Babies and People with Sensitive Skin
Contains no colorants, zeolites, phosphates or preservatives and is perfume free. This is a perfect all-around laundry detergent adapted for babies and children, but equally suitable for adults with sensitive skin or those who prefer an unscented detergent. The combination of enzymes is tough on stains and dirt makes it the go-to laundry detergent for families with toddlers. Clean and fresh garments already at 30ºC.
Use Hypoallergenic Laundry Detergent for:
Baby clothes and dirty kids' wear

People sensitive to fragrances or scented products

Not meant for wool and silk